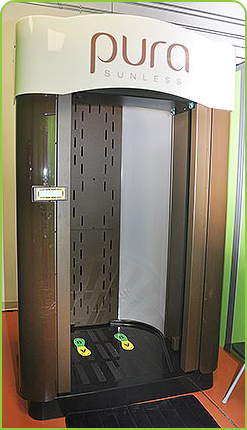 SUNLESS TANNING
Touch-n-Tan offers the industry's best spray tan in the "Pura Sunless" spray tan booth. The Pura is better than any other spray tan bed you have used. There is no orange tint, no streaking, no running, no missing areas of your body and only two simple standing positions.
Our spray tan will give you the color and results that you will love. Best of all you can spray tan anytime - day or night with Touch-n-Tan 24/7. Need to get some color before a wedding, prom or any last minute plans? You can at Touch-n-Tan 24/7 with our automated Pura Sunless tanning machine.
Choose the depth of your bronzing or adding in a great smelling moisturizer.
Your sessions are customizable.
Each spray cycle is followed by a heated comfort dry pass.
Our ITA trained and certified professional staff will help you pick the right bronzing color and show you the proper standing procedures to get the best results.